Forced sterilization and abortion in Japan: Family and constitution
Keywords:
judicial review, Japan, sterilization, concrete review, compensation, minority
Abstract
This study analyzes the ght between the Japanese judiciary and legislature. In Japan, under the ex-Eugenic Protection Act, disabled people were obligated to undergo sterilization procedures for about 20 years. This surprising Act was established in 1948 and enabled doctors to sterilize people in order to eliminate hereditary diseases; they could also perform this procedure on physically or developmentally disabled people without their consent. The 2016 Committee on the Elimination of Discrimination against Women advised that research and compensation is urgent and necessary, but the government stated that it was a legal medical operation, and no compensation was necessary. Even under concrete judicial review, the judiciary in Japan may exercise its power to provide remedies for minorities who cannot amend statutes in the political process, or their constitutional rights will be infringed upon. is study argues that even concrete judicial reviews work to prevent serious damage before it occurs. This study will use a legal approach to review the first voting rights decision, as well as several decisions that are relevant to families in Japan. Under a concrete judicial review of the Japanese constitution, a plaintiff needs to bring a dispute in law to the court and allege that the statute or administrative disposition infringes on their human rights as provided for in the constitution. If there is no statute in the case, it is very difficult for a plaintiff to compel the legislature to pass the statute. If the legislature does not function well, the judiciary is obligated to find a way to encourage the legislature or the government to provide a remedy. The judiciary cannot compel the legislature, but may show some of the steps that it follows in its decisions.
References
ASHIBE, M.: Kenpō [Constitution], 2015.
CHIBA, K.: Iken-Shinsa [Judicial review]. Yuhikaku, 2017.
SAKURAI, K. – HASHIMOTO, H.: Gyosuei Hō [Administrative law]. Kobundo, 2015.
Japan Bar Association: Kyu Yusei hogohou ka ni oite jisshi sareta yusei sisou ni motoduku yusei shujutu oyobi jinko ninshin chuzetu ni taisuru hoshou tou no tekisetuna soti wo motomeru ikensho [JBA announcement to seek compensation to forced operation, and abortion under Eugenic Protection Act] (February 16, 2017). Available at: https://www.nichibenren.or.jp/library/ja/opinion/report/data/2017/opinion_170216_07.pdf (accessed on 5th November 2018).
OHKAWA, S.: Meiji Minpō ni okeru Koui Nouryoku no seigen [Restriction of legal capacity under Meiji Civil Code]. In: Ritsumeikan Ho gaku, vol. 240, 1995. Available at: http://www.ritsumei.ac.jp/acd/cg/law/lex/95-2/ookawa.htm (accessed on 5th November 2018).
TSUJI, Y.: Decisions #at Declared Laws Unconstitutional And their Impact On Japanese Families. In: ILSA Journal of International & Comparative Law, Vol. 24, 2017, 1, Article 2. Available at: https://nsuworks.nova.edu/ilsajournal/vol24/iss1/2 (accessed on 5 November 2018).
TSUJI, Y.: Law Making Power in Japan – Legislative Assessment in Japan. In: Korean Legislation Research. vol. 10, 2016, 1. DOI: https://doi.org/10.2139/ssrn.2987663
TSUJI, Y.: Restection of Public Interest in the Japanese Constitution: Constitutional Amendment. In: Denver Journal of International Law & Policy, Vol. 46, 2018, 2, p. 159, 163.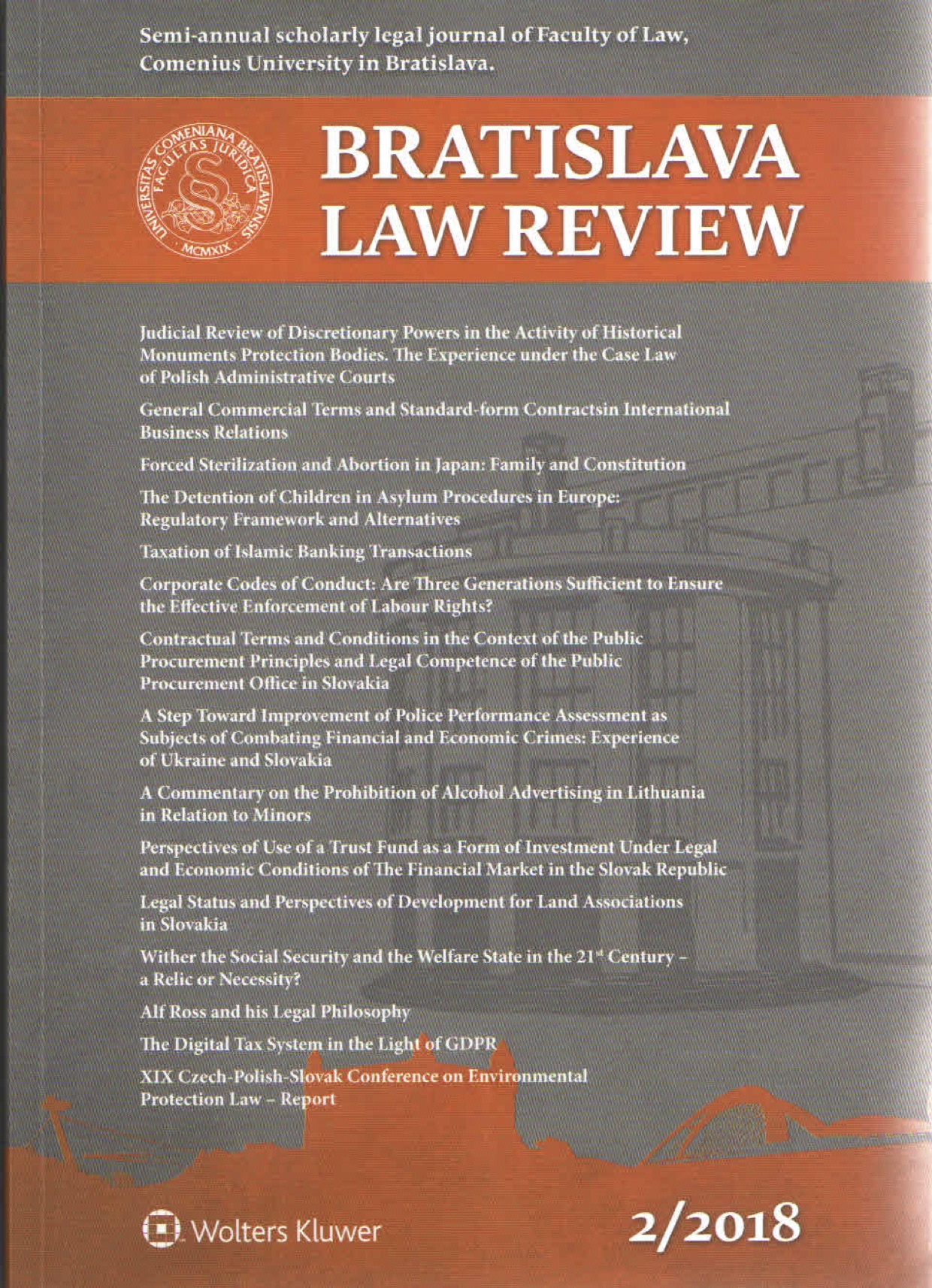 Downloads
How to Cite
Tsuji, Y. (2018). Forced sterilization and abortion in Japan: Family and constitution. Bratislava Law Review, 2(2), 50–63. https://doi.org/10.46282/blr.2018.2.2.118
License
The Author(s) transfers copyright to the Article to the Publisher of the Journal by the Licence Agreement.
The Author(s) retains rights specified in the Licence Agreement.
The readers may read, download, copy, distribute, print, search, or link to the full texts of all of the Article of the Journal and use them for any other lawful purpose under specified Creative Commons Licence (CC BY-NC-ND 4.0).