Industry 4.0, Legal Protection of the Employee and Intercultural Impact of Labour Migration
Keywords:
Industry 4.0, Employment protection legislation, Productivity, Labour law and migration, Intercultural behaviour
Abstract
Industry - Industry 4.0 [I4.0] is the main topic of discussions and proposals for innovative changes. In the last five years, inside industry sectors took place the intellectual clashes among digitisation, robotisation and automation. These concepts have been combined with performance, efficiency gains, steady economic growth, employment, labour migration, and increasing labour productivity in all managerial or economic forums. In particular, the European Union [EU] is one of the foremost leaders in improving workforce quality, given the increasing share of robotics and automation. The competitive pressure, beset on individual EU member states by countries with low-cost labour, is increased by assessing economic growth, increasing labour productivity, and setting social-law standards in the EU.
On the other hand, increasing the automation of production plants leads to increased employment pressure and contributes to managed labour migration. This migration is mainly about the pressure on competencies, quality, number of employees and the negative development of the demographic curve in the EU. All this reflects the demand for more robust legal protection for workers in the field of social assistance and legal regulations generally linked to a rapid change in labour market conditions. The resulting mix will have a significant impact on the economy's performance and competitiveness.
References
Aristotelés. (2009). Politika (3rd ed.). Praha: Rezek.
Avdagic, S. (2015). Does Deregulation Work? Reassessing the Unemployment Effects of Employment Protection. British Journal of Industrial Relations, 53(1), 6–26. Retrieved from https://doi.org/10.1111/bjir.12086
Barbieri, P. and Cutuli, G. (2016). Employment Protection Legislation, Labour Market Dualism, and Inequality in Europe. European Sociological Review, 32(4), 501–516. Retrieved from https://doi.org/10.1093/esr/jcv058
Dušek, J. (2020). Moderní personální management: trendy a výzvy. České Budejovice: Vysoká škola evropských a regionálních studií, z.ú.
Floerkemeier, C., Langheinrich, M., Fleisch, E., Mattern, F. and Sarma, S. E. (eds.). (2008). The Internet of Things: First International Conference, IOT 2008, Zurich, Switzerland, March 26-28, 2008, Proceedings (Vol. 4952). Berlin, Heidelberg: Springer Berlin Heidelberg. Retrieved from https://doi.org/10.1007/978-3-540-78731-0
Frey, C. B. and Osborne, M. A. (2017). The future of employment: How susceptible are jobs to computerisation? Technological Forecasting and Social Change, 114, 254–280. Retrieved from https://doi.org/10.1016/j.techfore.2016.08.019
Heyes, J. and Lewis, P. (2014). Employment protection under fire: Labour market deregulation and employment in the European Union. Economic and Industrial Democracy, 35(4), 587–607. Retrieved from https://doi.org/10.1177/0143831X13491842
Kainz, A. (2012). The influence of intercultural behaviour on business management. České Budejovice.
Kawano, T. (2015). Standardisation Strategy of the German Manufacturing Policy: Industrie 4.0. Journal of the Robotics Society of Japan, 33(5), 318–324. Retrieved from https://doi.org/10.7210/jrsj.33.318
Kratochvíl, O., Cícha, P. and Jurča, R. (2017). Digitální technologie a čtvrtá průmyslová revoluce. Evropský polytechnický institut, s.r.o.
Löwisch, M., Caspers, G. and Klumpp, S. (2019). Arbeitsrecht: Ein Studienbuch (12th ed.). Vahlen.
Mařík, V. (2016). Průmysl 4.0: výzva pro Českou republiku. Management Press.
Rohrbach, T. (2017). Deutsche Wirtschaft hält sich für Industrie 4.0-Weltmeister. Retrieved from http://www.staufen.ag/de/news-events/news/article/2014/10/studie-deutsche-wirtschaft-%0Ahaelt-sich-fuer-industrie-40-weltmeister.html%0A.
Schhmann, I. (2014). Labour Law Reforms in Europe: Adjusting Employment Protection Legislation for the Worse? SSRN Electronic Journal, 5–59. Retrieved from https://doi.org/10.2139/ssrn.2512678
Steiner, J. and Woods, L. (2009). EU Law (10th ed.). Oxford University Press.
Tomek, G. and Vávrová, V. (2017). Průmysl 4.0 aneb Nikdo sám nevyhraje. Průhonice: Professional Publishing.
Werro, F. and Dedek, H. (2017). What We Write About When We Write About Comparative Law: Pierre Legrand's Critique in Discussion*Preface. The American Journal of Comparative Law, 65(suppl_1), vii–x. Retrieved from https://doi.org/10.1093/ajcl/avx034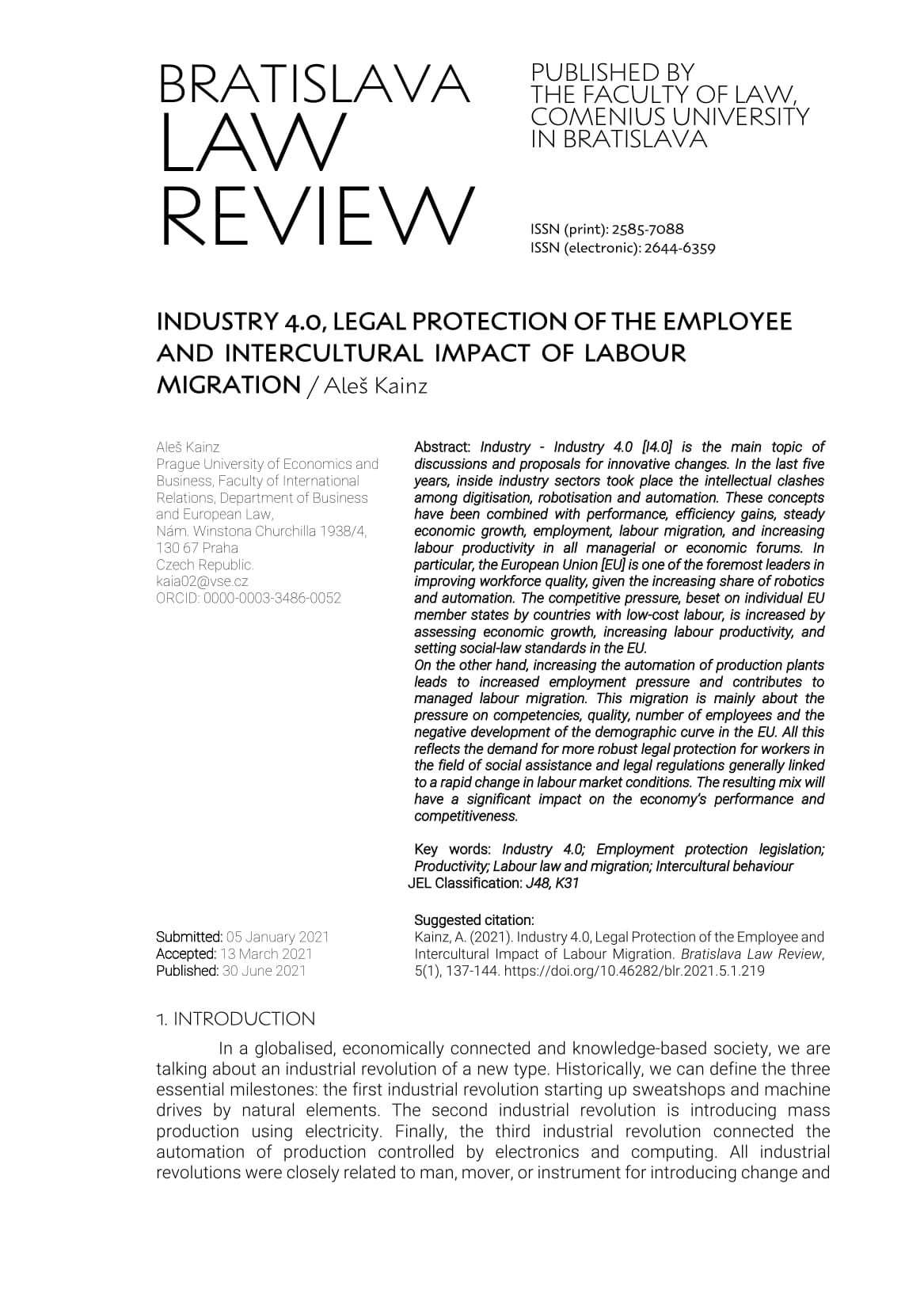 Downloads
How to Cite
Kainz, A. (2021). Industry 4.0, Legal Protection of the Employee and Intercultural Impact of Labour Migration. Bratislava Law Review, 5(1), 137–144. https://doi.org/10.46282/blr.2021.5.1.219
Section
Discussion Papers and Commentaries
License
Copyright (c) 2021 Bratislava Law Review
This work is licensed under a Creative Commons Attribution-NonCommercial-NoDerivatives 4.0 International License.
The Author(s) transfers copyright to the Article to the Publisher of the Journal by the Licence Agreement.
The Author(s) retains rights specified in the Licence Agreement.
The readers may read, download, copy, distribute, print, search, or link to the full texts of all of the Article of the Journal and use them for any other lawful purpose under specified Creative Commons Licence (CC BY-NC-ND 4.0).