Renascence of the administrative jurisdiction in Hungary
Keywords:
administrative jurisdiction, administrative procedural code, administrative courts, history of the administrative jurisdiction, Hungary
Abstract
The administrative jurisdiction is one of the guarantees of the civil legal security. However, a state has to "grow up" to this as to every legal guaranties. Administrative jurisdiction, and within it the creation of an independent administrative procedural order has been cause for much excitement in the law-making community basically from the early 1990 s, when control over administrative rulings became genuinely possible again. It was thus unsurprising that the codification of the Act on the procedural code of public administration was followed with interest, and the professional and scientific community gave regular updates on the status of the codification. Therefore, the fact that the president did not sign the Act passed by the National Assembly, but sent it to the Constitutional Court for evaluation instead caused a major stir. Based on the decision 1/2017. (I. 17.) of the Constitutional Court, the National Assembly eventually modified a number of provisions in the Act on the administrative procedural code and passed the Act again, which was then promulgated on March 1, 2017 as Act I/2017 on the administrative procedural code, and became effective, as per initial plans, on January 1, 2018. The article is not an ode to the Hungarian administrative jurisdiction or to the new independent administrative procedural code, but a historical and mainly legal analysis.
References
GÁSPÁRDY, L., WOPERA, Z., KORMOS, E., CSERBA, L., NAGY, A., HARSÁGI, V., Polgári perjog különös rész. Budapest: KJK-Kerszöv, 2004.
IMRE, M. (ed.): Közigazgatási bíráskodás. Budapest: HVG-ORAC, 2007.
KENGYEL, M. Magyar polgári eljárásjog. Budapest: Osiris Kiadó, 2014.
KOZMA, Gy. – PETRIK, F. Közigazgatási perek a gyakorlatban. Budapest: A Deák Ferenc Jogakadémia könyvei – KOTK Kft., 1994.
NÉMETH, J. (ed.): A polgári perrendtartás magyarázata. Budapest: Közgazdasági és Jogi Könyvkiadó, 1999.
PATYI, A. Közigazgatási bíráskodásunk modelljei. Tanulmány a magyar közigazgatási bíráskodásról. Budapest: Logod Bt., 2002.
STIPTA, I. A magyar bírósági rendszer története. Debrecen: Multiplex Media – Debrecen University Press, 1997.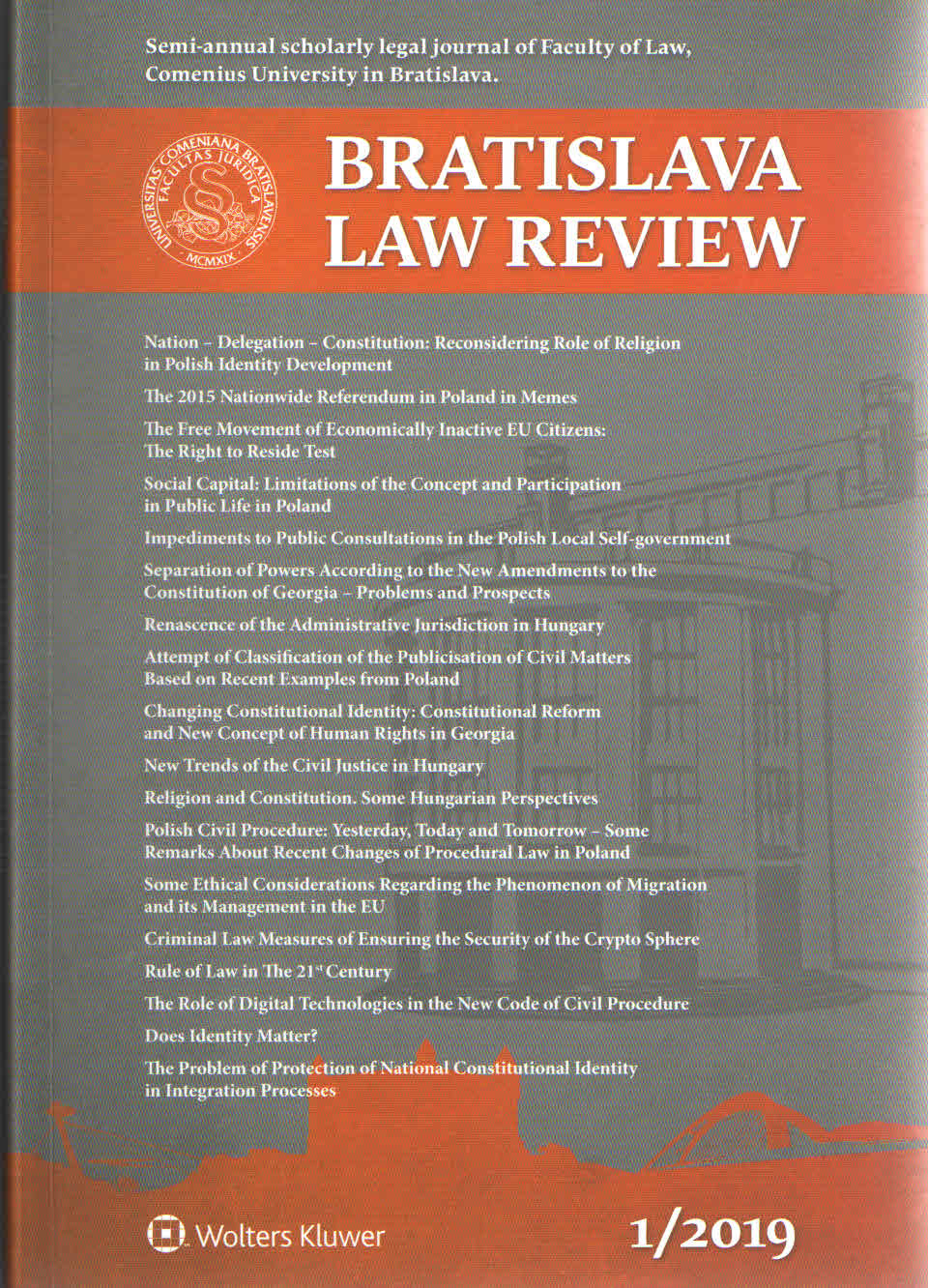 Downloads
How to Cite
Horváth, . E. (2019). Renascence of the administrative jurisdiction in Hungary. Bratislava Law Review, 3(1), 92–102. https://doi.org/10.46282/blr.2019.3.1.131
License
The Author(s) transfers copyright to the Article to the Publisher of the Journal by the Licence Agreement.
The Author(s) retains rights specified in the Licence Agreement.
The readers may read, download, copy, distribute, print, search, or link to the full texts of all of the Article of the Journal and use them for any other lawful purpose under specified Creative Commons Licence (CC BY-NC-ND 4.0).