The Effects of trademarks on franchising
Keywords:
Franchising, Trademark, European Union trademark, The EU Single Market, Brexit
Abstract
The authors of the paper discuss the use of a legal institute of trademark in a franchise business concept. Besides addressing the economic aspects, the relevant institute is mostly analysed from the perspective of the needs of the EU Single Market and in the light of Brexit. In the article is devoted special place to the European Union Trademark (EUTM), where the author examines the most appropriate means of designation of goods and services in franchising within the territory of the EU.
References
ATKINS, R. UK: EU Trademarks and Brexit. In LexisNexis, 6. 3. 2017.
DAUSES, M.A. et al. Příručka hospodářskeho práva EU. München : Verlag C.H. Beck HG, 2002, Praha : ASPI, 2002.
EMERSON W. R., WILLIS R. C. International franchise trademark registration: legal regimes, costs and consequences. In Wake Forest Law Review, vol. 52 (2017).
JEŽEK, J. et al. Prosazování práv z duševního vlastníctví, 2003. Available at <http://www.dusevnivlastnictvi.cz/images/dokumenty/prosazovanipravdusevnivlastnictvi.pdf>. [q. 2018-05-29].
KUČERA, Z. Mezinárodní právo soukromé. Brno : Doplněk, 2004.
MALY, J. Obchod nehmotnými statky. Praha : C. H. Beck, 2002.
PFISTER E. et al. Institutions and contracts: Franchising. In European Journal of Law and Economics, Volume 21 (2006). DOI: https://doi.org/10.1007/s10657-006-5671-4
TELEC, I. Přehled práva duševního vlastníctví. Brno : Doplněk, 2002.
TICHÝ, L., ARNOLD. R., SVOBODA, P., ZEMÁNEK, J., KRÁL, R. Evropské právo. 2nd Edition. Praha : C. H. Beck, 2004.
TRAUB F., HALEEN I., CLAY A.: Brexit – what next for Intellectual property rights? In The Licensing Journal (2016).
VOJČÍK, P. et al. Právo duševného vlastníctva. Plzeň : Vydavatelství a nakladatelství Aleš Čeněk, 2012.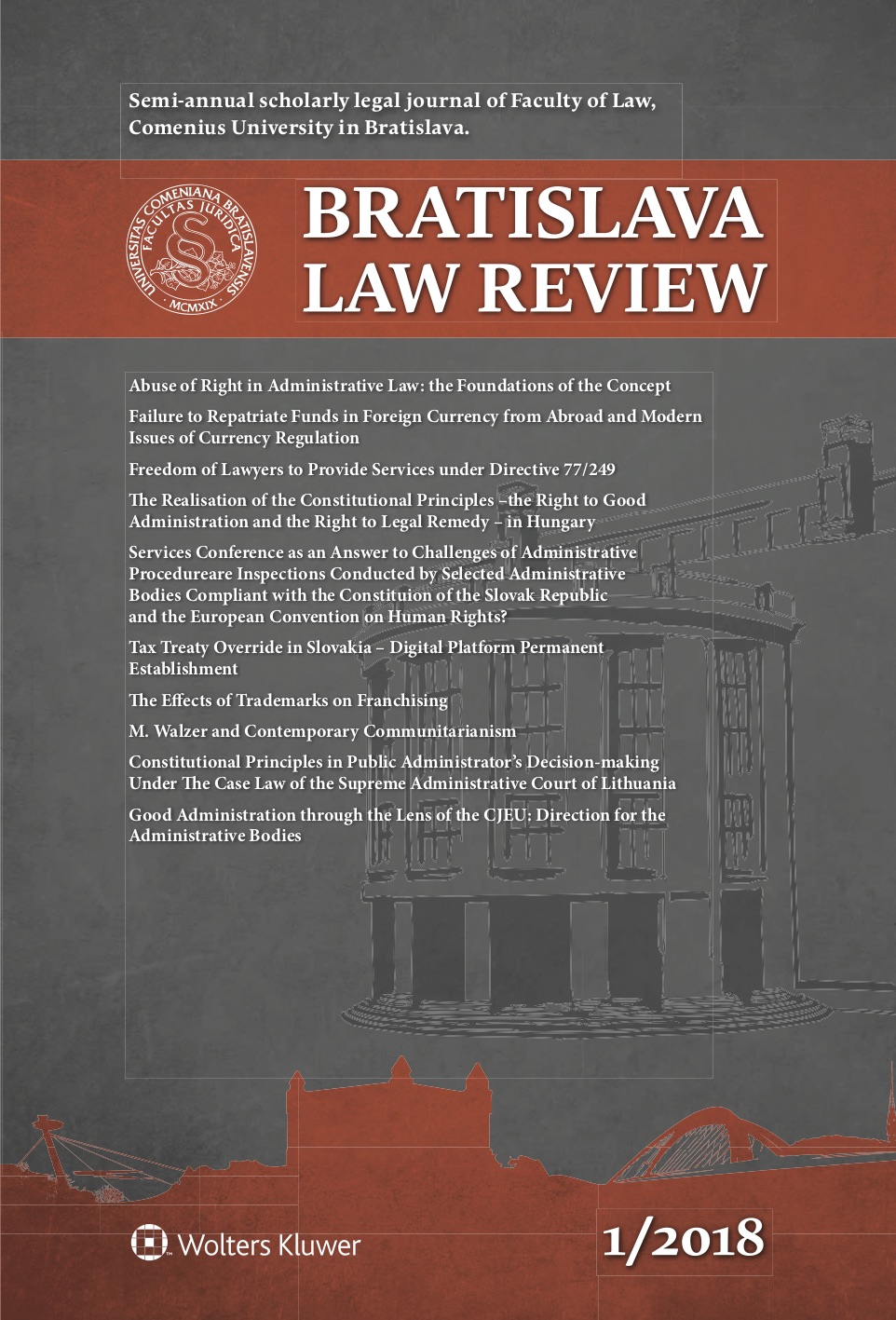 Downloads
How to Cite
Daňko, . M., & Žárská, . P. (2018). The Effects of trademarks on franchising. Bratislava Law Review, 2(1), 89–97. https://doi.org/10.46282/blr.2018.2.1.96
License
The Author(s) transfers copyright to the Article to the Publisher of the Journal by the Licence Agreement.
The Author(s) retains rights specified in the Licence Agreement.
The readers may read, download, copy, distribute, print, search, or link to the full texts of all of the Article of the Journal and use them for any other lawful purpose under specified Creative Commons Licence (CC BY-NC-ND 4.0).