Cyber security and the international law
Keywords:
Cyber security, International Law, Cyber Attacks, Regulation
Abstract
The Cyber security topic becomes a complex, interdisciplinary and multidimensional problem in the contemporary theory and practice of the International Law.
References
BEARD, J. M. Legal Phantoms in Cyberspace: The Problematic Status of Information as a Weapon and a Target under International Humanitarian Law. In Vanderbilt Journal of Transnational Law, Vol. 47 (2014), pp. 67–143.
BROWN, G. – POELLET, K. The customary law of cyberspace. Strategic Studies Quarterly, 2014, Vol. 6, pp. 126–145.
GOSNELL HANDLER, S. The New Cyber Face of Battle: Developing a Legal Approach to Accommodate Emerging Trends in Warfare. In Stanford Journal of International Law, Vol. 48 (2012), pp. 209–237.
KRAMER, D. F. – STARR, H. S. – WENTZ, L. – KUEHL, D.: Cyberpower and National Security. National Defense University: Potomac Books Inc., 2009.
RID, T. Cyber War Will Not Take Place. In The Journal of Strategic Studies, Vol. 35 (2012), pp. 5–32.
ROSCINI, M. Cyber Operations and the Use of Force in International Law. Oxford: Oxford University Press, 2014. DOI: https://doi.org/10.1093/acprof:oso/9780199655014.001.0001
SCHMIT, M. Classification of Cyber Conflict. Journal of Conflict & Security Law, Vol. 17 (2012), pp. 245–260.
SHELDON, J., B. Cyberwarfare: The Invisible Threat. Encyclopaedia Britannica, Book of the Year 2011.
TOBANKSY, L. Basic concepts in cyber warfare. In Military and Strategic Affairs, Vol. 3 (2011).
VALUCH, J.: Kybernetický priestor a medzinárodné právo. In Bratislava legal forum 2016. Bratislava: Univerzita Komenského, Právnická fakulta, 2016, pp. 115–124, ISBN 978-80-7160-432-7.
VALUCH, J. – GÁBRIŠ, T. – HAMUĽÁK, O. Cyber Attacks, Information Attacks and Postmodern Warfare. In Baltic Journal of Law & Politics 10:1 (2018), pp. 63–89, ISSN 2029-0454. https://doi.org/10.1515/bjlp-2017-0003 DOI: https://doi.org/10.1515/bjlp-2017-0003
VALUCH, J. – HAMUĽÁK, O. Cyber Operations within the Conflict in Ukraine and the Role of International Law. In SAYAPIN, S., TSYBULENKO, E. (eds.): The Use of Force against Ukraine and International Law – Jus ad bellum, jus in bello, jus post bellum. Series: International Criminal Justice Series, Vol. 18, T.M.C. Asser Press (Springer) 2018, ISBN 978-94-6265-221-7. https://doi.org/10.1007/978-94-6265-222-4 DOI: https://doi.org/10.1007/978-94-6265-222-4
ZIMMERMANN, A. International Law and 'Cyber Space' . ESIL Reflections: European Society of International Law, 2014, Vol 3, Issue 1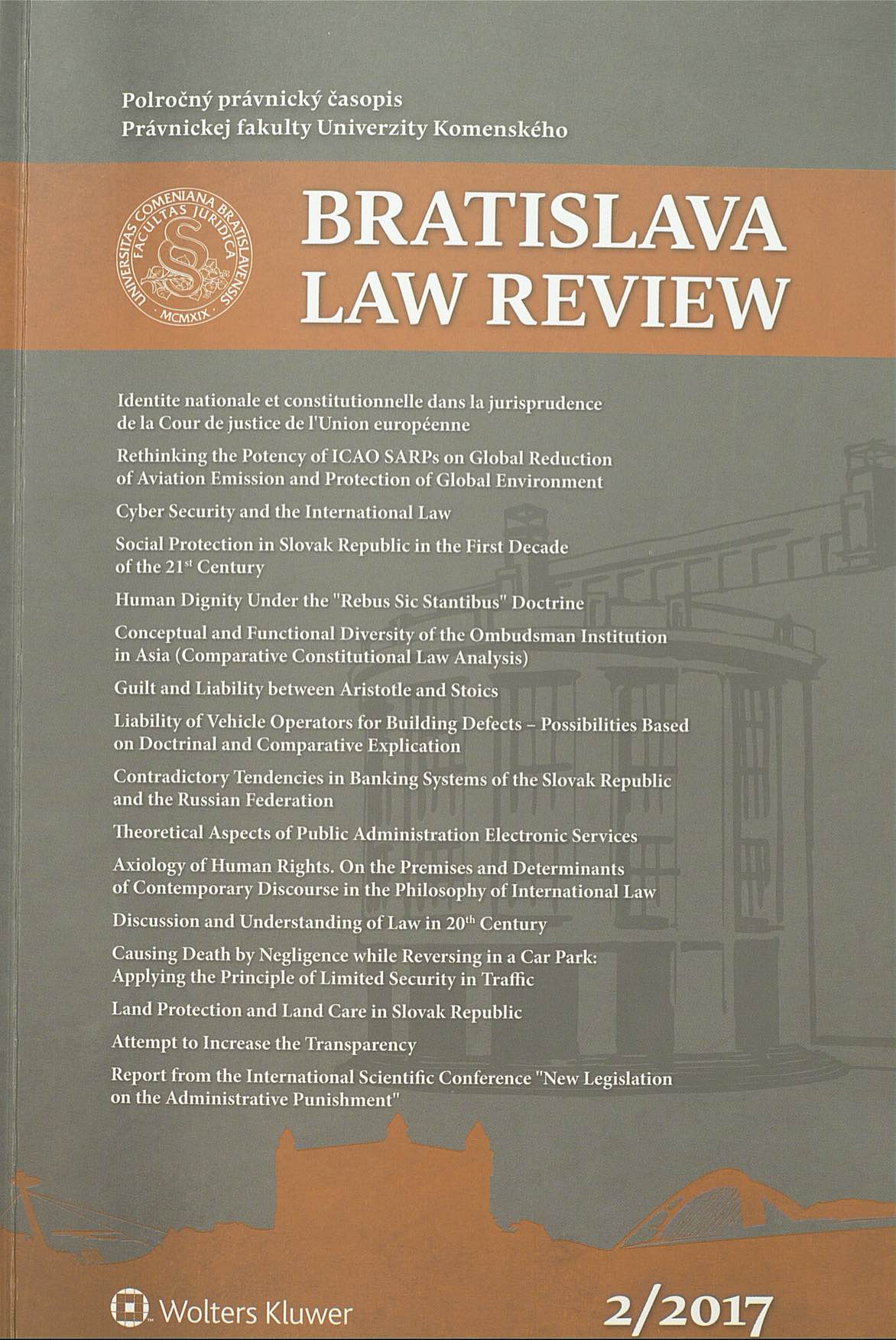 Downloads
How to Cite
Vršanský, . P., & Bednár, . D. (2017). Cyber security and the international law. Bratislava Law Review, 1(2), 38–49. https://doi.org/10.46282/blr.2017.1.2.74
License
The Author(s) transfers copyright to the Article to the Publisher of the Journal by the Licence Agreement.
The Author(s) retains rights specified in the Licence Agreement.
The readers may read, download, copy, distribute, print, search, or link to the full texts of all of the Article of the Journal and use them for any other lawful purpose under specified Creative Commons Licence (CC BY-NC-ND 4.0).